Part N° 185.888NEG
REVOTEC: AH 100/4, NEGATIVE EARTH
B-AH100/4 185.888NEG Austin Healey 100-4/6 & 3000 1953-1968 spare parts
€ 337.11

excl. VAT




€ 407.90

incl. VAT *
* All prices exclude shipping costs and use a standard 21% VAT rate. Some parts and products cannot be returned. A list of exceptions can be found on our webpage Returns & refunds (See footer).
** Price is indicative, please contact us to check price and delivery time.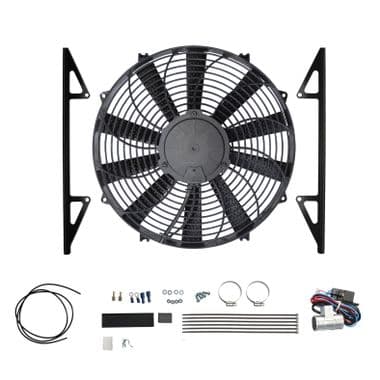 Locate this part on the drawing(s)
Click on the illustration to view a diagram of the parts available. Select the parts by pressing the number in the diagram.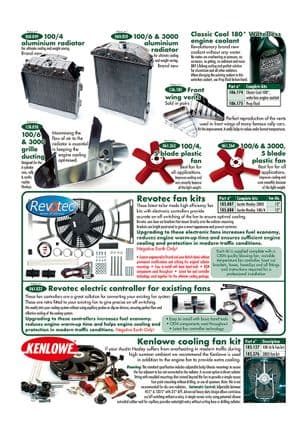 Cooling improvements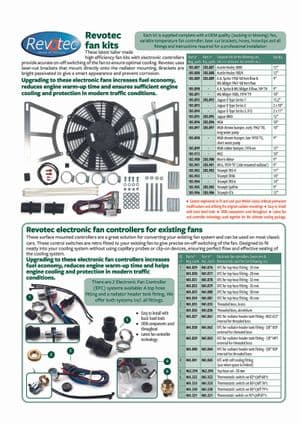 Cooling fan kits
REVOTEC: AH 100/4, NEGATIVE EARTH
B-AH100/4 Coolant improvements spare parts
The Revotec fan is designed to replace the original mechanical fan found in the Jaguar E-Type Series 1, converting the electrical system to negative earth. The negative earth configuration allows for compatibility with modern electronic components and accessories. The fan operates on a 12-volt electrical system and utilizes an electric motor to circulate air through the radiator. Installing the Revotec fan requires some basic mechanical skills and tools. The process typically involves removing the existing mechanical fan and replacing it with the Revotec fan assembly. The installation may also require mounting brackets and wiring connections to be fitted properly. It is crucial to follow the provided instructions carefully to ensure a correct installation. The Revotec fan is designed to fit within the space allocated for the original mechanical fan. The dimensions are specifically tailored to the Jaguar E-Type Series 1, ensuring a proper fit without the need for significant modifications to the vehicle's cooling system. When it comes to weight, the Revotec fan is generally lighter than the original mechanical fan it replaces. This reduction in weight can potentially provide a small performance benefit by reducing the load on the engine, thereby improving overall efficiency.
This part is also available for the following classic car models: