Part N° 046.207
WIRE WHEEL, CONVERSION KIT / MIDGET, SPRITE (AP KIT)
046207 046.207 MG Midget 1964-80 spare parts


* All prices exclude shipping costs and use a standard 21% VAT rate. Some parts and products cannot be returned. A list of exceptions can be found on our webpage Returns & refunds (See footer).
** Price is indicative, please contact us to check price and delivery time.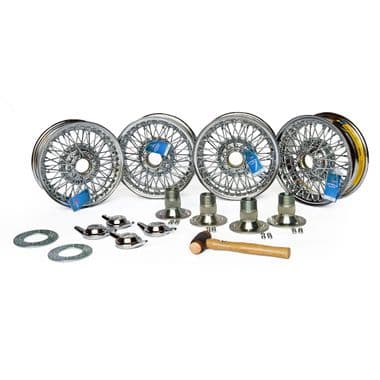 ---
WIRE WHEEL, CONVERSION KIT / MIDGET, SPRITE (AP KIT)
046207 Wheels spare parts
Wire wheel conversion kit for your Midget, Sprite. The kit includes 16 Midget hub nuts (Part number 161.125), 4 hubs (Part number 042.202 and 042.203) (2x hub front and rear, wire wheel, RH / Midget + 2x hub front and rear, wire wheel LH / Midget), 4 wire wheels (Part number 046.019) (4" x 13", 60 spokes, Chrome / Sprite - Midget), 4 Caps (Part numbers 042.071 042.072) (2x Knock on centre caps, RH, 2 eared, 8 thread, plain, 42MM + 2x Knock on centre caps, LH, 2 eared, 8 thread, plain, 42MM), Hammer Thor (1150gr) (Part number 042.097), 2x spacers (Part number 042.204) (4", to suit bold on hubs, front / Midget.) MOTOR WHEEL SERVICE QUALITY ASSURANCE Each MWS wire wheel carries a quality assurance certificate. Wheels built with stainless steel spokes and nipples are covered by a full é year warranty. Standard painted wire wheels have a year cosmetic and 2 years structural warranty. These warranties do not cover the following: damage due to neglect in maintenance, during wheel/tyre mounting, balancing or installation on vehicles. Any product used for competition or fitted with non-standard tyres.
---
This part is also available for the following classic car models:
---