Part N° 046.209
WIRE WHEEL, CONVERSION KIT / MGB 63-67 (AP KIT)
046209 046.209 MGB 1962-1980 spare parts


* All prices exclude shipping costs and use a standard 21% VAT rate. Some parts and products cannot be returned. A list of exceptions can be found on our webpage Returns & refunds (See footer).
** Price is indicative, please contact us to check price and delivery time.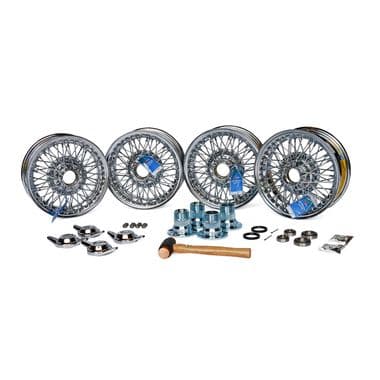 ---
WIRE WHEEL, CONVERSION KIT / MGB 63-67 (AP KIT)
046209 Wheels spare parts
Wire wheel conversion kit for your MGB (1963-1967). The kit includes 8 nuts (Part number 161.639) (Hub nut 1/2", UNF / MGB), 4 hubs (Part number 042.057 and 042.058) (2x hub, front, wire wheel, 8 TPI / RH / MGB + 2x hub, front, wire wheel, 8 TPI / LH / MGB), 4 wire wheels (Part number 046.009) (4.5" x 14", 60 spokes, Chrome / MGB), 4 Caps (Part numbers 042.075 and 042.076) (2x Knock on centre caps, RH, MG, 8 thread, 42MM + 2x Knock on centre caps, LH, MG, 8 thread, 42MM), 2 conversion hubs Banjo (Part numbers 032.074 and 032.075) (B RH and RH CONV. HUB BANJO), Hammer, Thor (1150gr) (Part number 042.097). MOTOR WHEEL SERVICE QUALITY ASSURANCE Each MWS wire wheel carries a quality assurance certificate. Wheels built with stainless steel spokes and nipples are covered by a full é year warranty. Standard painted wire wheels have a year cosmetic and 2 years structural warranty. These warranties do not cover the following: damage due to neglect in maintenance, during wheel/tyre mounting, balancing or installation on vehicles. Any product used for competition or fitted with non-standard tyres.
---
This part is also available for the following classic car models:
---