Part N° 185.972NEG
REVOTEC: MGC, TWIN FAN, NEGATIVE EARTH
B-MGC 185.972NEG MGC 1967-1969 spare parts
€ 396.34

excl. VAT **




€ 479.57

incl. VAT * **
* All prices exclude shipping costs and use a standard 21% VAT rate. Some parts and products cannot be returned. A list of exceptions can be found on our webpage Returns & refunds (See footer).
** Price is indicative, please contact us to check price and delivery time.
Locate this part on the drawing(s)
Click on the illustration to view a diagram of the parts available. Select the parts by pressing the number in the diagram.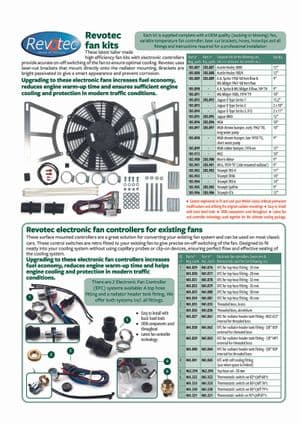 Cooling fan kits
REVOTEC: MGC, TWIN FAN, NEGATIVE EARTH
B-MGC Coolant improvements spare parts
Specifically designed for MGC models with a negative earth setup, this cooling system upgrade offers enhanced efficiency and reliability, keeping your beloved car running smoothly even under challenging conditions. The Revotec Twin Fan boasts several impressive specifications that make it an ideal choice for MGC owners. With a powerful dual-fan configuration, it delivers a significant increase in airflow compared to the stock fan setup, promoting better heat dissipation. This enhanced cooling capability is particularly beneficial during high-performance driving or in warm climates, helping to prevent overheating and ensuring the engine operates at its optimal temperature. Installation of the Revotec Twin Fan is straightforward, thanks to its comprehensive kit that includes all the necessary components and detailed instructions. The kit consists of two high-quality electric fans, a robust fan controller, and a specially designed mounting bracket. The fans are precision-engineered to fit seamlessly within the existing fan shroud, maintaining the original aesthetics of your MGC. Additionally, the fan controller incorporates adjustable temperature settings, allowing you to fine-tune the cooling operation based on your preferences and requirements. In terms of size, the Revotec Twin Fan strikes a balance between compactness and performance. Its dual fans have a diameter of 12 inches (30.5 cm), providing ample coverage to effectively cool the radiator and surrounding components. Despite its robust cooling capacity, the Revotec Twin Fan's slim design ensures it doesn't impede the airflow or create unnecessary drag. This allows for efficient cooling without compromising the car's overall performance or aesthetics. The Revotec Twin Fan is a testament to the commitment to quality and performance of MGC classic car enthusiasts. With its negative earth configuration, it seamlessly integrates with your MGC's electrical system, making it an ideal upgrade for those seeking improved cooling efficiency. Whether you're taking your MGC for a spirited drive on winding country roads or participating in vintage car rallies, the Revotec Twin Fan provides the reliability and peace of mind you need to enjoy your classic car to the fullest.
This part is also available for the following classic car models: