BATTERY CHARGERS
401.949
BATTERY CHARGER (6V/12V - 0,6A) / VOLTMATIC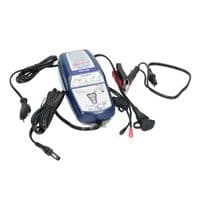 201.105
BATTERY CHARGER, 12V, AMPMATIC / OPTIMATE 6
201.104
BATTERY CHARGER (6V/12V), VOLTMATIC / OPTIMATE 5
BATTERY CHARGERS

Smart charging systems that give your vehicle the care it needs.

1. NEW IN OUR RANGE: Battery charger (6V/12V - 0.6A) - Voltmatic:
OptiMate's Voltmatic battery charger is the versatile solution for vintage car enthusiasts. With compatibility for both 6V and 12V systems, it ensures your battery stays in top condition. Improved version of the Optimate 1 battery charger. Automatic charging system. Optimises battery life and power. OptiMate 1 VoltMatic automatically adjusts to the battery voltage (6V or 12V). Suitable for smaller vehicles.

2. Battery charger (6V/12V) - Voltmatic / OptiMate 5:
OptiMate 5 Voltmatic offers advanced and easy 6V & 12V charging and trickle charging of your camper, marine or car starter and deep cycle batteries - Most popular automatic 6V/12V charger!
OptiMate 5 is the ultimate in classic car battery charging. This intelligent charger adapts to the specific needs of your battery and delivers precision care for both 6V and 12V systems.

3. Battery charger (12V) - Ampmatic / OptiMate 6:
For classic cars that rely on a 12V system, the Ampmatic OptiMate 6 is a revolution. This battery charger automatically evaluates the health of your battery and performs tailored maintenance. It can even safe a dead battery. OptiMate 6 Ampmatic is the smartest fully sealed starter battery saver charger & maintainer for the 12V AGM, GEL or STD batteries in your motorbike, car/pick-up truck, marine vessel or motorhome.

OptiMate battery chargers are more than just chargers; they are your classic car's best friend. They extend the life and reliability of your battery and give you the confidence of a trouble-free ride, every time.